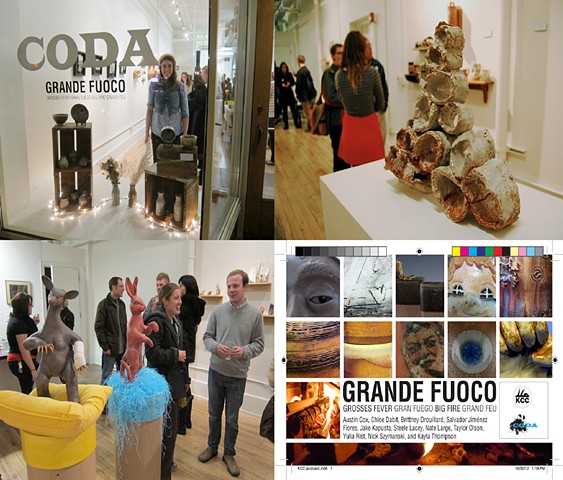 Kendall College of Art and Design Clay Collective:
Grande Fuoco 2013
multiple clays, glazes, and processes were employed
Top left: KCC member Chloe Dabit posing behind a display of her work in the storefront windows of CODA Gallery.
Top Right: One of the works on display in the exhibition by Nate Large, Sculpture and Functional Art '15
Bottom Left: Artists and visitors during the reception
Bottm Right: The card that was printed to promote the exhibition
Grande Fuoco was a group exhibition representing members of the KCAD Clay Collective (KCC) at CODA gallery, an off campus venue in dowtown Grand Rapids, MI.
The KCAD Clay Collective is a student group, made up of various majors college wide, dedicated to the advancement of education in the arts through ceramics as a point of entry. The group is active in fundraising, hosting creative events and visiting artists, community service, and participating in arts related activities that enrich one's education.
As faculty advisor to the KCC I highly encourage this type of activity and am active in fundraising, proposal writing, and planning. I founded the group in 2009 to embolden its members to be pro-active in the pursuit of experiences that are relevant to their creative trajectories.