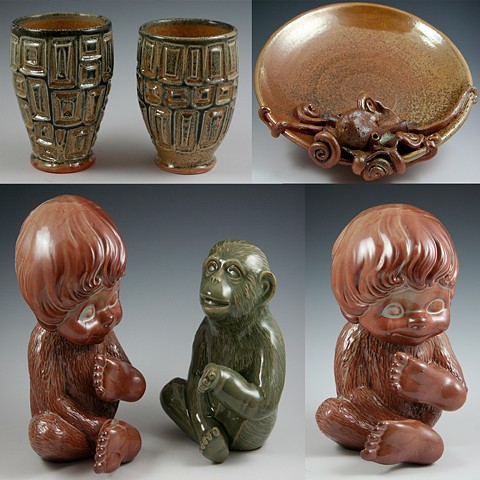 Sculpture and Functional Art BFA with an Emphasis in Ceramics
wood and gas fired stoneware, slip-cast porcelain
Top: Jovonnah Nicholson, Sculpture and Functional Art '09
Cups, wheel-thrown, wood-fired stoneware, 5"x3"x3"
Octopus Platter, wheel-thrown, wood-fired stoneware, 3"x16"x16"
Bottom: Kayla Thompson, Sculpture and Functional Art '11
Figurines, slip-cast porcelain assemblage, gas fired 8"x4"x3"
I arranged for both of these students to receive funding to cover the costs of courses taken at Ox-Bow School of Art in addition to scholarships they received based upon the merit of their work.
Jovonnah is currently an instructor in the youth program at the West Michigan Center for Arts and Technology, in Grand Rapids, MI and teaches adult courses in the Continuing Education Program at Kendall College of Art and Design.
Kayla served as the ceramics area technician at KCAD for two years and is currently pursuing a MFA at the University of Oregon.
They both joined me for a three-week residency at Ceramica Artistica Prospettiva, a ceramic center in Trieste, Italy in 2014. A residency that I coordinated and funded through sponsorship from a local company.