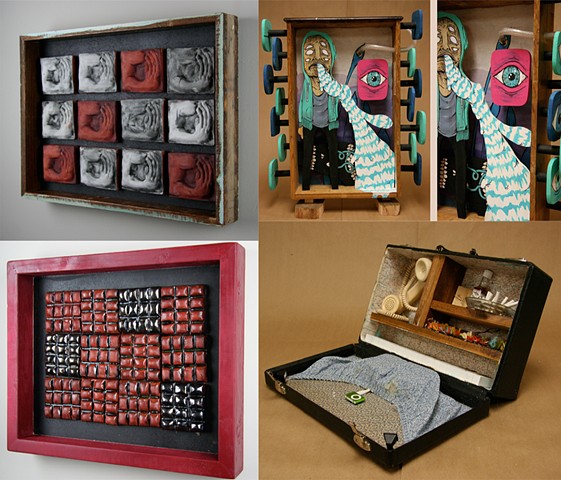 KCSF 111 - 3-D Design
Project 3 / Repetitive Tiles
Project 4 / Shadow Box
earthenware, underglaze, glaze, wood, paint, found objects
Left: Project 3 / Repetitive Tiles
earthenware, underglaze, glaze, wood, paint,18"x24"x4" (4"x4"x4" per tile)
Right: Project 4 / Shadow Box
found objects, mixed media, wood, sound composition, paint, dimensions vary (top:24"x18"x6" bottom: 16"x24"x6").
These projects are designed to introduce students to other areas in the Sculpture and Functional Art program such as the ceramics facility and the wood shop. Students recieve training on how to properly used power tools and are provided an introduction to clay as a medium for modeling and production.
The main objective of the Repetitive Tile assignment is to design and reproduce a series of twelve earthenware tiles using mold-making and slab construction techniques. A presentation on the project includes examples of architectural ceramics, Moorish tile work, and a discussion of tesselation, repititon, and reproduction.
The Shadow Box project is based upon the assemblage works of modern artist Joseph Cornell. In addition to formal goals, the ideas of concept and narrative are introduced. Students are asked to consider what materials and objects mean within the context of the finished work. A presentation on Cornell and other artists working with assemblage is given.