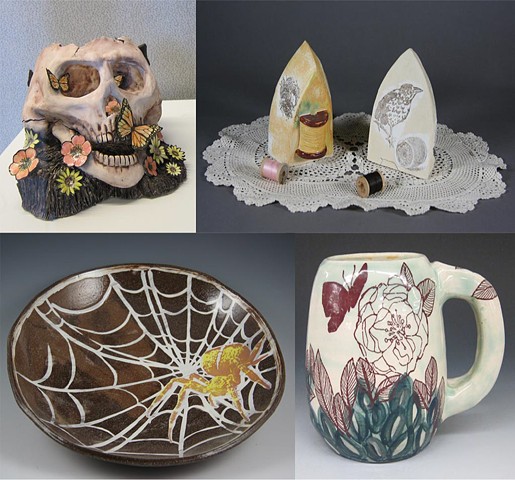 KCSF 222-Ceramics 2
Project 1: Digital Imaging / Print on Clay
earthenware, mid-range stoneware, underglazes, toner-transfers
Top Left: Skull with Flowers, low-fire eartthenware, direct screen-print with underglaze, clear glaze, 10"x10"x8"
Top Right: Irons and Bobbins, mid-range stoneware, screen-printed transfer with underglaze, 6"x4"x3" (each iron)
Bottom Left: Spider Bowl, mid-range earthenware, direct screen-print with underglaze, clear glaze, 4"x12"x12"
Bottom Right: Floral Mug, mid-range stoneware, laser toner decals, underglaze, clear glaze, 5"x3"x3"
This project introduces three methods of digital imaging/priinting on clay: screen-printing directly onto clay slabs, screen-printed newsprint transfers applied to pre-formed leather-hard clay objects, and laser printed toner decals applied to fired objects.
Demonstations on all three techniques are given including how to use Photoshop for image development, screen preparation, screen exposure, and application.
Students complete an object using each method.
A presentation is given on current artists using these and other imaging on clay processes. Historic examples of printing on clay are also discussed. The goal is to open students to the various possibilities of merging objects with images. Though the emphasis is on digitally generated imagery, students can opt for hand-drawn analog approaches to develop images as well.