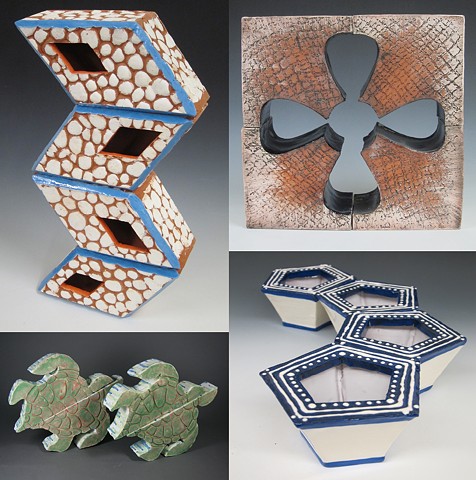 KCSF 220-Ceramics 1
Project 2: Architectural Blocks / Slab-Construction
low-fire red earthenware, underglaze, clear glaze
dimensions variable (each block is 4"x4"x4" and no smaller than 2" any direction)
The assignment is to design and reproduce a series of four terracotta blocks using slab construction techniques.
A presentation on the project includes examples of architectural ceramics such as brick, block, and tile. Tesselation, repititon, and production are discussed along with technical demonstrations of slab construction.
Cardstock is measured and cut to create repeatable patterns that are used to trace each side of the block into clay slabs. Students are encouraged to explore color and geometric forms.
Basic requirments are: scale, repetition, and a sense of continuum. Key concepts are: timing, production, and precision.
Bottom Left: the tortoise forms were designed in Illustrator and a laser cutter was employed to make textured impression plates used as a pattern for the blocks. A goal is to continue to incorparate these tools in future projects and assignments.