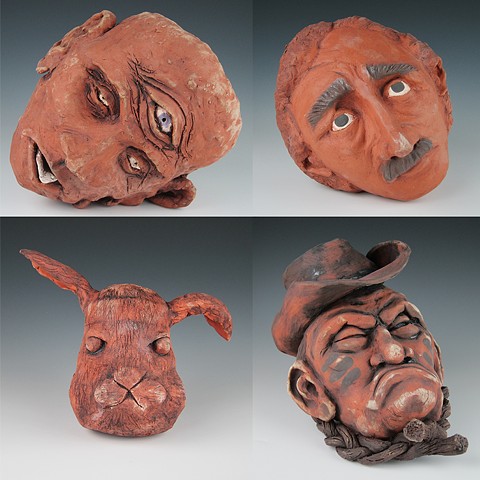 KCSF 220-Ceramics 1
Project 1: Terracotta Heads / Coil-Construction
low-fire red earthenware, underglaze
dimensions variable (within 12"x12"x12" and no smaller than 8"x8"x8")
With this project students learn foundational skills of constructing a vessel with coils of clay in a free-form format.
The assignment is to build a basic egg shaped vessel that is manipulated and sculpted. Emphasis is on clay as a maliable material and an awareness of its natural characteristics from wet to dry states.
Students are encouraged to be intuitive and allow their touch to be imbued through the handling of the material. To further this notion, glazes are not applied and color is limited to accents only.
The basic requirments for the assignment include size, construction methods, and guidelines for good craftsmanship.
As a demonstration I build a head from start to finish with the class and provide presentations on coil-construction and the Head project that include examples of ceramic heads, artists that specialize in heads, and information on historic, cultural, and contemporary use of coil-construction methods.